Are you spending way too much on advertising and still not getting as many buyers as you would like? You can make as many great sales pitches as your heart desires, but if the audience isn't ready to buy then it may seem like you have lost out on those people for good.
But that's not always the case, often it is more important to simply keep in touch with people and keep educating them about your product so it sticks in their mind until they are ready to buy. With all the different ways to get in touch with potential customers, continuing to be proactive to those who weren't ready to buy at first can be extremely time-consuming.
My business runs much more smoothly because I have found a solution to this ongoing problem: Infusionsoft. This software lets you keep track of all the leads that were interested in your product but needed more time to think about it as well as your previous customers in order to get the most out of your advertising. The way I see it is like recycling leads; if people show interest but only a few buy then the others simply disappear into the woodwork, but with this software they are constantly being reminded of your product and therefore can come back and buy.
It is vitally important to be in front of your customer at the exact moment they are ready to buy. If you simply continued with the general method of advertising and acquiring new leads and prospects, then those who didn't buy right away might not come back when they were ready. You must have an effective and efficient follow-up system.
There are many systems that help manage customer relationships, automate email campaigns, include web forms, thank you pages, and more. And many of these are very good, but it seems like they all do only part of the job. Infusionsoft is the industry leader because it truly puts it all together. In fact, it is so complete, the challenge is to use all the functionality.
I used to have the challenge of trying to find ways to get my customer database linked to my autoresponder system and email campaigns, my fulfillment requests integrated with my sales process, and on and on. Follow-up was taking all my time.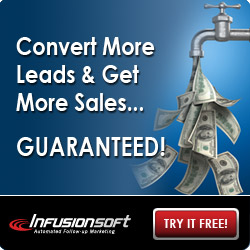 The only reason NOT to use Infusionsoft is if it's too big for you or too much horsepower for your business right now. And the perfect way to find out is with a free trial. The sooner you get fully automated, the happier you'll be in business.
The best part is: Infusionsoft has a new deal for first-time users as part of the free trial. They will waive the usual start-up fee if you continue the service after the trial period! That can mean a savings of nearly $2,000! That and only pay the monthly payment for this lead-saving software.
For more information, check out MLM Online Resources or go directly to the infusionsoft website.